An extravagant popcorn palace became a nexus between politics and social change.
BLUE-AND-WHITE-CLAD USHERETTES "schooled in the ways of feminine tact" no longer greet filmgoers at the Castro Theatre, as the San Francisco Chronicle reported they did in 1922. But few movie theaters retain the feel of their opening days as well as this Spanish-baroque beauty that helps define the neighborhood.
Both facade and interior are largely intact, it's still single-screen, it still shows movies every day, and almost all the detailing remains original, including tile work and a ceiling resembling "some richly ornamental and costly fabric," in the Chronicle's words.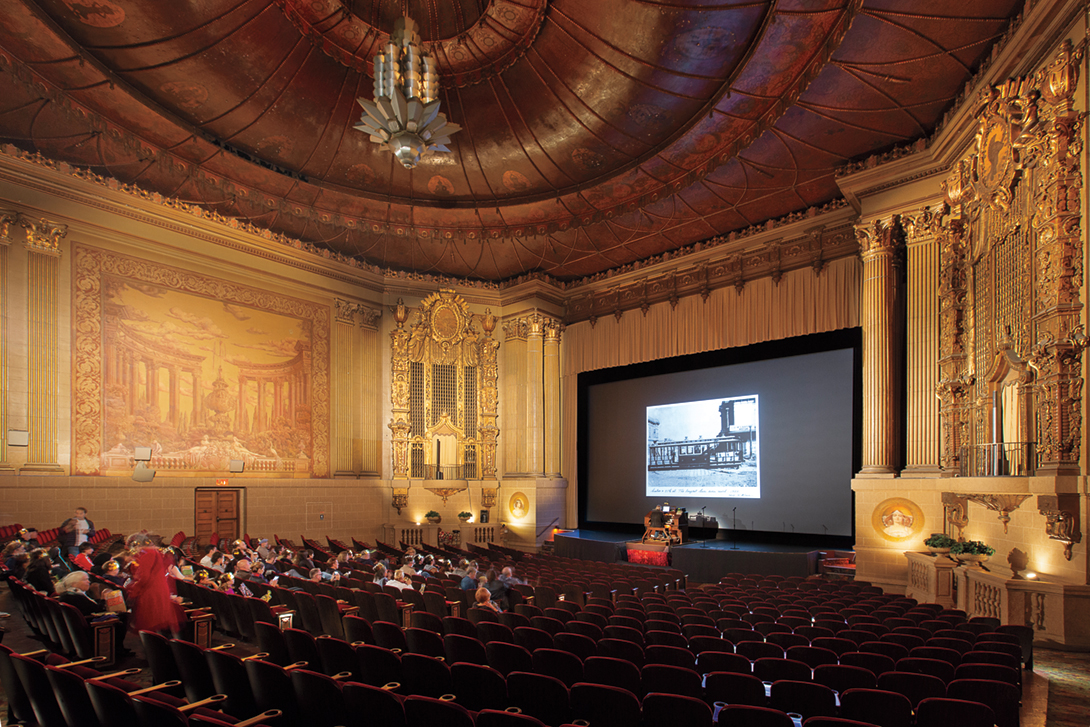 Yet this place has proved itself able to change with the times. The 1922 rendition was, after all, called the "New Castro." An earlier, smaller Castro down the block, where Cliff's Variety is now, was closed to give its big sister the stage.
The theater is an early work by architect Timothy Pflueger, who soon found fame with area landmarks like Oakland's art deco Paramount Theatre and San Francisco's moderne Pacific Coast Stock Exchange and Mayan-revival 450 Sutter Street.
Theater restorer David Boysel described it to the Chronicle well: "You have a ceiling that looks like an Asian tent, walls that look like they came from an English country house, murals showing a garden folly with a fountain in the middle, an art deco chandelier and organ grilles that look like they came from some palace in Europe."
The Castro opened with 2,000 seats, but it was not designed as a spectacular picture palace. It was a neighborhood theater, grand but not overly so, a place where folks could come several times a week, meet friends and not have to dress up. That may seem tame compared to Pflueger's awe-inspiring Paramount, but few neighborhood theaters can top the Castro for character. The architect oversaw each detail, from the mural created sgraffito style (scratching through layers of colored plaster) to the 25-foot-tall arched window dominating the facade. After a fire in 1937, Pflueger returned and added the art deco chandelier, and a new marquee was installed.
The theater has had two superb organs in its lifetime, a Conn organ that was replaced by a Mighty Wurlitzer in 1982. The pre-show music, integral to the movie-going experience, is now as beloved as the theater itself. Cinemas hit hard times in the 1960s. San Francisco's largest and most magnificent, the Fox, went down in 1963. A former usher recalled the Castro in 1969 as a "run-down neighborhood theater" with "tawdry charm."
In 1976 new operator Mel Novikoff made the Castro a destination, restoring it as an art and repertory house, which it has essentially remained ever since. Through a succession of operators, including the Nasser family, who built the theater, it catered to the neighborhood's gay community, as well as fans of serious cinema, silents and film noir, with festivals, sing-alongs and appearances by drag star Peaches Christ.
When the biopic Milk, about city supervisor and activist Harvey Milk, was filmed in the area, the Castro Theatre benefited. The filmmakers repainted the facade and restored the neon to give scenes shot out front a 1970s feel — and perhaps to thank the theater for amplifying the neighborhood's political and social message.
This article originally appeared in Spaces's print edition under the headline: "Marquee Value".