Hibernating and relaxing were definitely not on the pandemic agenda of Jo Annah Kornak, SVP/Executive Creative Director of the renowned furnishings brand Holly Hunt. Kornak took over the company's creative leadership in 2016, when founder Holly Hunt moved from CEO to chairman of the company, which offers every manner of decor in its showrooms around the world. Holly Hunt's in-house collections have a foundational quality that comes from clean lines, robust proportions, high-quality materials and expert craftsmanship.
Kornak leads a global team that's busy launching new products, collaborating with talented artisans and opening a consumer-focused showroom in Los Angeles. Here's a lightly edited conversation with Kornak about this exciting time.
HH Walls just launched seven new patterns, how did you get that done during a pandemic?
The new lines really started two-and-a-half years ago; that's how long it takes for product development, testing, getting the colors right and getting the production right. The labor intensiveness of these papers added a whole other layer of complexity. It's a process, but a good process.
Tell us about some of your favorites from the new lines.
I was in London a few years ago at a flea market and found a very small piece of a beautiful tapestry. I pulled it out when we were working on product development and asked the team to try a hand-done pattern. It became Instinct, and it's getting a lot of traction, even though it's at the top of our price point. People want it because it's really great.
Another one is Turin, which is a digital print on a textile, and there's a whole process behind it.
I also love Bois, which is a wood veneer in a paper weave and it comes in beautiful colors, but I like the darkest one best. It took two years in product development to get the right texture, right color and right performance. A paper can look great, but how is it going to perform and how is it going to look in a room with other stuff? It's very important in wallpaper to be able to build an environment around the design.
Along with your in-house development, you also collaborate with a lot of smaller designers. How do you find them?
We want to partner with people who don't do exactly what we do. It's about finding new voices and new ideas and then working together to elevate their ideas. It's about being innovative. We're not going to manufacture everything, but we can really help some of these smaller companies with distribution.
Can you give me an example?
There are so many great ones! Caste is a Chicago company and they do something completely different from what Holly Hunt does. Their work is super sculptural and organic, but it mixes so well with what we do.
Then we have Mark Albrecht, a designer in New York City who was a sculptor in France and studied at the Ecole des Beaux Arts in Paris. He does a lot of clean-lined pieces and woven leather pieces that mix really well with our lines. We're looking for pieces that tell what the Holly Hunt lifestyle is about.
Another great one is Moss & Lam, a talented group out of Canada. It's really important that we find people who have a passion for what they do, and who are looking to put their best work out there. It's in their DNA, it's not just product for them, which is very much what we do.
What do you think will happen with in-person design events like NY Luxury Design Fair?
Events will start happening again. Art Basel is a big deal for us, as is the NY Luxury Design Fair and we're waiting to hear if these events will happen. We're all anticipation, and we're ready with new products and new stories and a brand-new showroom that's really different from any of our others.
Tell me about that new L.A. showroom.
It will be our flagship West Coast showroom. It's at street-level in the gallery district in L.A., and it's super exciting and a really big move for the brand. When we talk about relevance, we're talking about moving and growing and changing and doing different things and thinking beyond where we currently are, and that's what we continually try to do.
---
More from SPACES:
---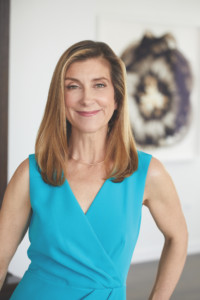 Laura Hine is a design and style writer based in Chicago. She's a former editor-in-chief of Better, as well as the Modern Luxury publications CS Interiors and NS.