Claire and Luke Staszak bought a Tudor bungalow in 2016 knowing a couple of things: first, the house needed a lot of work; second, it wasn't their forever home, so they had to be careful to not over-improve the house for the neighborhood. The house, which was built in 1932, "was a diamond in the rough, with good bones and lots of character," Claire says. "But, it definitely needed updating in every room."
As the owner and founder of Centered by Design, which she started in 2015, Claire was in a great position to update the house both for her family and as a showcase for her design talents. (Professionally, she has designed residential and commercial interiors throughout Chicagoland, as well as vacation homes in Michigan and Florida). The couple started with the first floor, which included a very dated kitchen. "If this was a 10-year home for us, I would have enlarged the space," Claire says. "Instead, we decided to work within the original footprint." The couple fully gutted the kitchen and updated it with resale in mind. "We did a lot of things that are designer-savvy, like butcher-block countertops that are amazing, but a little lower in cost," she recalls.
In 2018, Claire and Luke welcomed their daughter, Willa. Once she began to toddle around the house, some of the design decisions Claire had originally made needed to be revised. "The first thing we did was get rid of the marble coffee table in the living room," Claire says. "We changed it to an ottoman that's covered in faux leather, so it never stains, it's easy to wipe down and it opens up for a ton of storage." It was also significantly softer and less dangerous than hard stone with sharp corners.
But overall, the couple decided not to radically change the house's design because they were parents. "Live with what you love is my philosophy," Claire says, noting that she absorbed this tenet during an apprenticeship at Nate Berkus Interiors. "We try to be practical, but it's not worth living in fear all the time." With that in mind, the white area rug and white curtains stayed. The rug is a very practical one-hundred-percent wool. The only major incident they had involved a guest and full glass of red wine—definitely not Willa's fault—and it cleaned up beautifully. Chairs covered in a mohair and a sofa that has been recovered in a cotton velvet are similarly durable and held up to family living.
Last summer, Claire got the itch to redecorate two of the home's main spaces. Like all of us, the family had spent a lot of time indoors during the pandemic, and they were ready for a change of interior scenery. The dining room was typical of a Chicago bungalow in that you pass through it to get to the rooms at the back of the house. During the initial renovation, Claire placed the table and light fixture off-center to allow for easy passage, but she didn't feel the dining room flowed with the living room. "I was feeling so stuck inside," she says of the months that followed Chicago's initial lockdown. "I wanted to feel nature, plus that room needed a little more green to connect it to the living room." Raphael wallpaper by Sandberg as well as new chairs and curtains gave the room a total refresh and related it to the living room's green chairs.
The second space that Claire tackled was her former office, which is right off the kitchen and now serves as three-year-old Willa's playroom. "We don't have a finished basement, so it's nice to have a playroom," Claire says. "And since red is Willa's favorite color, I thought it would be fun to design around that." The Carly wallpaper by Schumacher starts with an orangey red, mixes in floral elements and lands in a bright, happy place that's playful enough for a child but not cloying for the adults who also spend considerable time in the room. "I was ready for something a little bolder," Claire explains, "and I knew that wallpaper was going to make me happy. I was eager to bring in a little more joy!" To finish the room, Claire added a simple shelving unit with baskets to corral the clutter in the chicest possible way and a custom chandelier from Sullivan + Phenix.
Overall, the process was joyful – and not just because the Staszaks had become a family of three. "For these updates, I really felt free," Claire says. "I've grown as a designer, and this felt like a chance to use that confidence."
---
More from SPACES:
---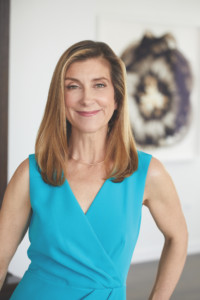 Laura Hine is a design and style writer based in Chicago. She's a former editor-in-chief of Better, as well as the Modern Luxury publications CS Interiors and NS.