John and Laura Winkenbach loved their Pac Heights condo and everything the city had to offer. And, with one kid in tow, inconveniences like slogging up a steep hill to take their daughter to the park were worth the effort. But when baby number two arrived, they began yearning for an easier way of life. They craved a flat, sunny yard with plenty of space for their kids to explore. And so, after seven years of city living together, the couple began researching their East Bay, North Bay and South Bay options. It didn't take long to conclude that Marin was the perfect community to put down roots. "We made an offer on a house in Tiburon, but got outbid," says Laura. And, while disappointed, the false start was a blessing in disguise, as the perfect place had yet to come to market.   
The "one," as it turns out, was a four bedroom three-and-a-half bath Mediterranean style in nearby Mill Valley. Laura was skeptical at first. The home needed updating and she struggled to see past its nineties-era finishes. But John convinced her that the home's location, floor plan, and square footage ticked all the boxes. And, with a little prodding, she eventually came around. Then with the help of contractor Tony Anello of Anello Painting and Construction in Novato and interior designer Jill McCrae of JM Interiors in Mill Valley, the couple managed to turn this dated knoll-top house into their family dream home. 
The plan called for an extensive remodel, though the floor plan was nearly perfect, so they didn't have to do much in terms of relocating plumbing or electrical. Highlights of the makeover included gutting the kitchen and baths, updating the lighting and laying down all new flooring. They also skim coated the textured walls to a flat finish and removed decorative elements such as pillars and columns in an effort to de-emphasize the home's Mediterranean feel. "We wanted it to feel more contemporary," says Laura. Warm neutral tones throughout the space did just that, while allowing the home's water and mountain views to be focal points. 
For furnishings, interior designer Jill McCrae managed to seamlessly blend high end pieces with more accessible ones. In the master bedroom, for example, she found the Winkenbachs a sale-priced bed frame from Pottery Barn Bed and flanked it with two shagreen nightstands by Made Goods.  
With the internal remodel complete, the family moved into their new abode. And while they had grand plans to remodel the outdoor spaces, they agreed to live in the house awhile and get a sense of how they might use it. One thing they learned after a year in the house, "Our neighborhood is much cooler than other parts of Mill Valley," says Laura. "And the wind really kicks up at night." To that end, they scrapped plans for a span of accordion doors recognizing it was probably not the best investment given their microclimate. They replaced an old terracotta patio with an expansive deck replete with three separate sitting areas. They also passed on a fire table figuring it wouldn't be enough to keep them warm at night. 
Instead they focused on making the yard a daytime haven. Without question, John's favorite relaxation spot is parked on one of their RH swivel chairs where he can pivot between watching his kids play in the yard and watching sports on the home's new, outdoor TV. "Now that sports are back, you'll find him out there most Sundays," says Laura.  
Getting the outdoor space finished wasn't easy as Covid-19 has hit retailers hard and stores, while open, have limited stock. "I bought every outdoor pillow that had left at the Crate and Barrel in Town Center," says Jill. Fortunately, you wouldn't know by looking at the finished product that it was slim pickings. In fact, the Winkenbach's couldn't be happier with the end product. "We have this little saying: 'In Jill we Trust' because she has a way of pulling different color palettes, pieces of furniture and textures together that we wouldn't think of going together, but we know that with her designer's eye it's all going to work." 
The Details
What They Own: A four bedroom, three-and-a-half bath Mediterranean
Where They Live: Enchanted Knolls Neighborhood of Mill Valley
Contractor: Tony Anello of Anello Painting and Construction in Novato
Interior Designer: Jill McCrae of JM Interiors in Mill Valley
Favorite Aspect: "The kitchen," says Laura. "Especially since Covid. Now that I'm not getting home from work at 6:30 and scrambling to throw a meal together, I cook all the time." 
---
How to Help During COVID-19
There are so many deserving nonprofits that need your help right now. For more organizations to support, check out the nonprofits here or GoFundMe, where they're matching donations on Giving Tuesday Now for select charities.
---
More from SPACES:
---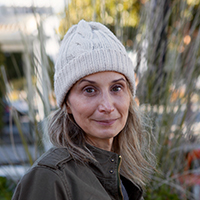 Dawn Margolis Denberg has worked as a professional journalist for 20 years. Her work has appeared in top publications, including Wired, Shape and Parenting. She has also written several books for children including, The Men in Black Agent's Manual The Official Godzilla Movie Fact Book. And, most recently, an episodic audio series for Tales Untold.