Architect Daniel Piechota gives the rural northern California winery vernacular an urban flair.
DANIEL PIECHOTA'S FIRST COMMERCIAL BUILDINGS designed under the banner of his new San Francisco architecture firm — wine production buildings and a matching satellite structure with tasting room and banquet spaces, for Silver Oak winery in the Alexander Valley — are essentially country barns.
Built last year in the middle of vineyards near Healdsburg, they stand out like a child's drawing of an archetypal house against the vines. Featuring distinctive blackened vertical board-and-batten siding milled from recycled redwood wine tanks, the walls flow seamlessly up into peaked standing seam metal roofs that have no overhangs. Inside surfaces — steel, bronze and ceramic tile, especially in the public spaces; paneling of valley oak salvaged from the 2015 Middletown fires; board-formed concrete planks — are all beautiful and homey backdrops for custom furnishings chosen by Mill Valley designer Laurel Harrington.
The homelike aspect is no accident: Harrington had previously decorated a San Francisco pied-à-terre for David Duncan, the family-owned winery's proprietor, chairman and CEO. And when it came time to find a winery architect, Duncan looked at a house by Piechota and consciously chose his Piechota Architecture firm in lieu of a conventional winery designer.
"Not having done a winery proved to be an advantage," Piechota says. "That's exactly what David was looking for."
"We wanted a new example of a winery in the modern era," Duncan adds. And with acquisition of 113 acres of vineyards for the Alexander Valley location up north, it was finally possible for his nearly 50-year-old winery, founded in the Napa Valley near the Silverado Trail, to have just that. He gathered a team of contractors, engineers and advisers who knew what essentials a modern winery ought to have, then urged Piechota to take the Alexander Valley property into uncharted eco-conscious architectural terrain.
At first, the architect imagined a single building like a house of glass, wrapped around a viticultural pond on top of a hill. But responding to Duncan's "green" brief, he opted for long barn-like forms, laid in parallel rows against a backdrop of the Mayacamas Mountains. "If they need more space in the future, they can easily add another row," he notes.
The solar arrays on all the south-facing roofs contribute to the project's LEED Platinum standing, as do other nearly invisible features. For instance, the asymmetrical production structures have large cutaway openings for cross ventilation and ease of entry. A frosted glass canopy over the grape delivery area creates a light-filled yet shaded area for harvest-laden trucks waiting to be unloaded. Between the banquet pavilion and tasting room, an orderly stand of birches provides more shade, and a long trough-like reflecting pond, clad in bronze by Chris French, is a cooling spot.
Despite many refined details borrowed from home design, Silver Oak's modern buildings exude the essence of barns; their features are functional rather than merely historicist or decorative. In the fermentation room, rows of elegant digital speakers, resembling modern light fixtures, hang from the ceiling, filling the space with invigorating mariachi or Mozart music during the busy crush.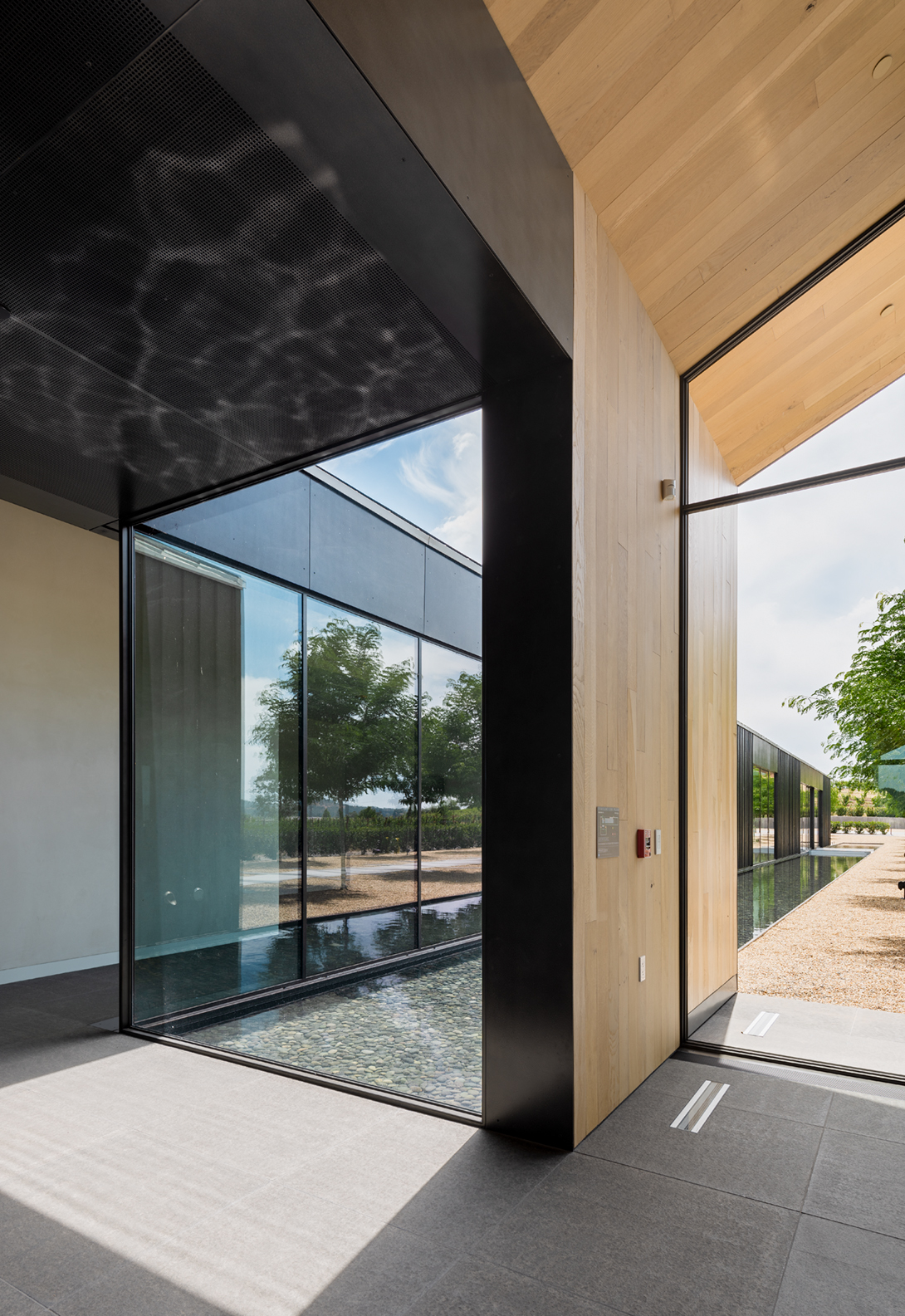 "The rest of the interior is clearly industrial, with stainless steel tanks and metal catwalks," Duncan says. "We were not making the Taj Mahal. We just wanted to include beauty and simplicity, and those, we know from making wine, are the hardest things to achieve."
Evoking Silver Oak's distinctive black bottles with silver labels, the dark buildings with light-toned interiors are fitting intermediaries between out- side and in. Flamed basalt floors, the textural paneling of rough concrete planks, rift-sawn salvaged oak from Evan Shively's Arborica — all subtly reflect the landscape.
Literally and metaphorically framing the vineyards, the buildings reflect the seasons. "When the vineyard is lush and green, the gray concrete inside comes into focus; during the winter when it is gray outside, you notice the wood paneling," Piechota says. "I was after something you feel instinctively."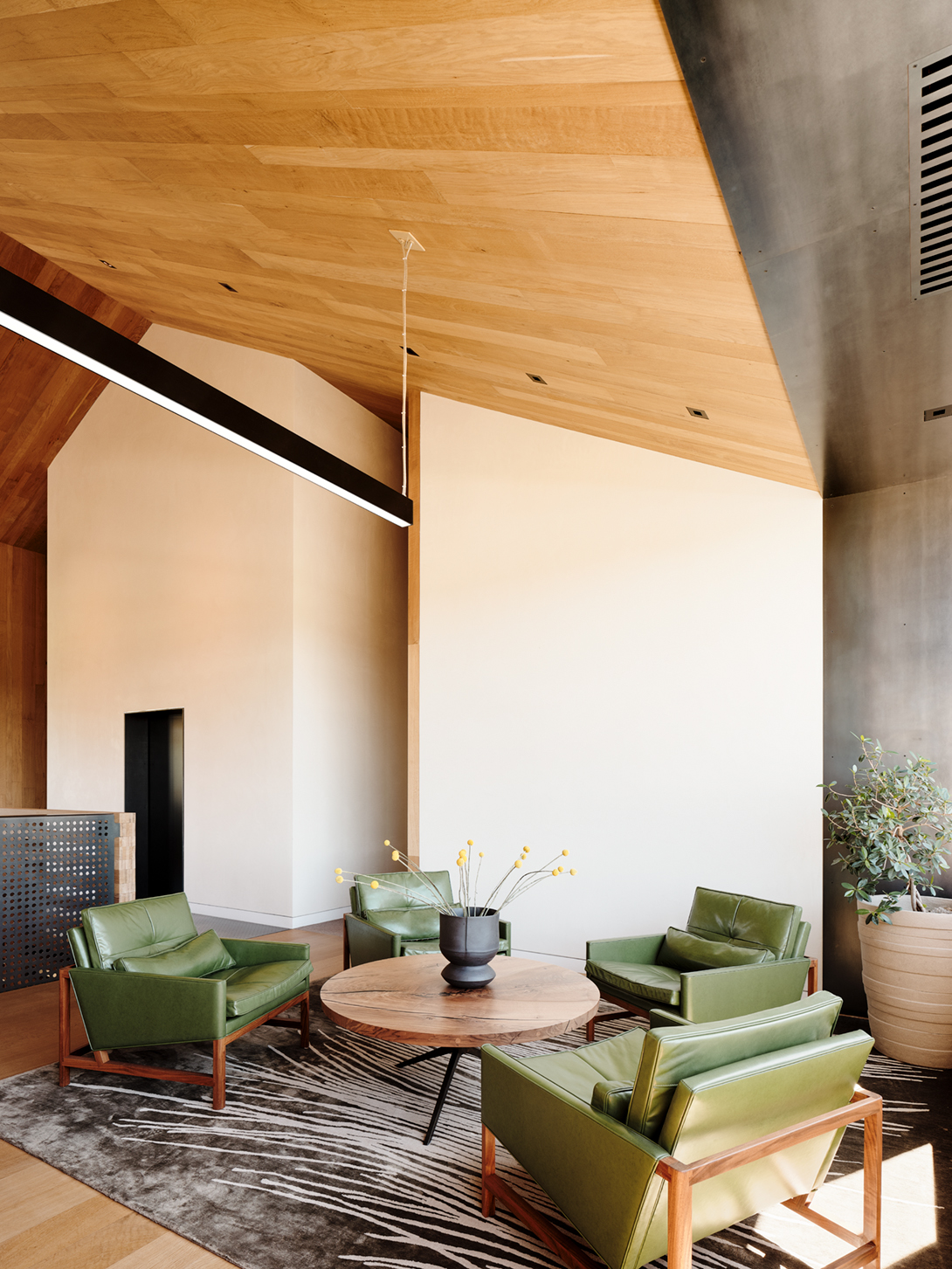 Deep inside the banquet "barn," which opens to a kitchen garden, is another evocative treat: a circular climate-controlled wine library that contains the earliest Silver Oak cabernet sauvignon vintages. Lined with charred Shou Sugi Ban tongue-and-groove redwood, the small room distinctly feels like the inside of a dark bottle of wine. Its black painted ceiling has a circular aperture for coved lighting, and through it you can look up — as if through the bottle's neck — at a white plaster cupola that bounces light back into the room. A cylindrical floor-to-ceiling wine rack made of delicate steel rods also crafted by French hugs the room's curved walls and surrounds a central table — an enormous basalt boulder with a glassy polished flat top — that looks as if it sprang from the site.
Despite the urban sophistication of the design, unveiled to the public last year, "David really wanted visitors to feel close to the land," Piechota says. Duncan affirms that. In every sense, "I wanted visitors to be in the vineyard and have a connection to the earth and the fruit," he says.
"Winemaking begins and ends with it."
---
ARCHITECT
INTERIOR DESIGNER 
CONTRACTOR
PATIO
Barlow Tyrie Titan teak table and benches
SITTING ROOM 1:
Eric Slayton Elemental Ki Blok table (oak and steel); Fellows low back lounge chairs, BassamFellows; Blades of Grass rug, Niba Designs; bronze sculptures (limited edition), Peter Boigner
DINING ROOM 1:
Kant table, BassamFellows; Ripple rug, Niba Designs; Moroccan green vessels, local artisans; Mantis chairs, BassamFellows
SITTING ROOM 2:
Lavale series vase, Linda Fahey; low back lounge chairs, BassamFellows; Michael Hamilton walnut table with steel base; Metamorphosis rug, Niba Designs
DINING ROOM 2:
Double Boules vase, Linda Fahey; Michael Hamilton custom oak dining table; Mariposa chair, Fyrn
WINE ROOM
Basalt stone table, Sagan Piechota Architecture, American Soil and Stone
This article originally appeared in SPACES's print edition under the headline: "Barn Again".
---
Editor-in-chief Zahid Sardar brings an extensive range of design interests and keen knowledge of Bay Area design culture to SPACES magazine. He is a San Francisco editor, curator and author specializing in global architecture, interiors, landscape and industrial design. His work has appeared in numerous design publications as well as the San Francisco Chronicle for which he served as an influential design editor for 22 years. Sardar serves on the San Francisco Decorator Showcase design advisory board.