Plants are really having their moment. Scrolling through Instagram you'll see amazing greenery in every interior designer or DIY blogger's photos. You may have even stumbled upon accounts that take plants to the next level. Take celebrity "plant lady" Summer Rayne Oakes — she went viral a few years ago for having over 670 plants in her Brooklyn apartment. The number today? It's more like 1,000.
View this post on Instagram
Oakes doesn't just love plants — plants are her life. She has a degree in environmental science and entomology from Cornell University and is an environmental communicator, eco-activist, and entrepreneur. She focuses her work on health, wellness, and sustainability and founded her website, Homestead Brooklyn, and Plant One On Me, a weekly YouTube series, to "help reconnect people to nature through the beauty of plants and gardening."
In her new book
, "How to Make a Plant Love You: Cultivate Green Space in Your Home and Heart," Oakes explains that everyone deserves to feel the "calming joy that comes from taking care of greenery." We all know that plants make your home more welcoming and provide cleaner air, but Oakes points out that the ritual of caring for and maintaining your green space is a path to mindfulness. "They can reduce our stress level, lower our blood pressure, and improve our overall outlook," she says.
View this post on Instagram
We sat down with Oakes at her recent book release event at The Union League Club of Chicago and asked her what her best advice is to care for your plants. Here are her tips for keeping those green beauties alive:
Study Your Space
This is of utmost importance: before you purchase plants for your home, you need to understand how light filters through your space and if there are any factors, like a persistent draft, that will affect how a plant thrives.
Oakes writes, "Once you determine the direction, quality, and quantity of light that enters your home, begin to research what plants thrive best in those conditions."
Support Local
Ready to purchase plants? Please support local shops. Not only are you supporting your community, but the staff is also more likely to be better informed on the plants they sell. As a benefit, some shops even grow their own plants on farms they own and take better care of the ones that sit on their store shelves.
Oakes has even started a Plant Shop Pub Crawl as a way to encourage enthusiasts to get out and support their local plant stores. It's a win-win.
Go on a "Plant Date"
When choosing your plants, you may be drawn to a beautiful looking exotic, but remember that might not be best for your space. "Once you've learned your plant's name, do a little more research on it and see where it originates and in what kind of ecosystem it lives," Oakes writes. If something typically grows in a shady and humid tropical environment, how are you going to replicate this in your home?
If it turns out you should really avoid that tropical plant you had your heart set on, what plants are easy replacements? Oakes recommends trying a ZZ Plant (zamioculcas zamiifolia), devil's ivy (epipremnum aureum), snake plant (sansevieria trifasciata), or silver pothos (scindapsus pictus).
Find the Right Spot and Create Their Natural Habitat
Now that you understand your home and your plant's needs, you should be able to find that sweet spot in your home for it to thrive. Observe the plant over the next two weeks. Is it thriving? If not, adjust.
If you have done your homework, you should also understand how much water this plant needs. "Around 80 to 95 percent of a plant is composed of water, which tells you how much plants rely on it for their survival," Oakes says. In the same respect, if your plant needs some help, for instance if your Fiddle Leaf Fig is dropping leaves, you should be able to investigate. Is it getting enough light and water? Did you place it too close to that draft? If you understand where your plant came from and its preferences, you will have better success with helping the plant flourish in your home.
Create a Routine
Oakes writes, "This book, in part, is a call to join me and my community to turn back the clocks and return to a slower time, even if just for a few hours every Sunday." Oakes is a fan of a Sunday watering ritual, where you take the time to give attention to each of your plants while focusing on yourself. Think of it as a way to reconnect with nature and escape the constant texts, notifications, and obligations before you head back into the work week.
Respect Nature
Just as the seasons change, plants cycle seasonally as well. If your plant has not sprouted a new leaf and is dropping its bottom leaves in the winter, this might just be its cycle. Respect this and don't freak out — I repeat, don't freak out! Keep on your regular schedule and give the plant room to breathe.
Now that you are fully prepped with your to-do list, here are some local Chicago plant stores to support:
This article originally appeared on better.net.
---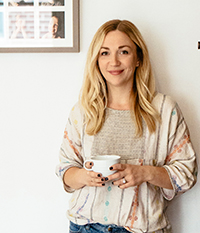 Macaire Douglas lives in Chicago with her husband and two sons. She proudly supports Share Our Spare, a local nonprofit that collects goods for children in need.