The Eames lounge chair. The Noguchi table. The Aeron chair. These pieces, from the legacy brand Herman Miller, have come to define modern interiors.
This week, Herman Miller opened a massive new retail complex in Chicago's Fulton Market, where shoppers can peruse offerings from the company, as well as several modern brands that are part of the Herman Miller Group, including Design Within Reach, and the Danish furnishings company HAY. There's even an exhibition space, the Eames Pavilion, that celebrates the history of the century-old, Michigan-based company. We asked four designers to share their favorite modern pieces from the Herman Miller family and show us the interiors where they fit best.
"The Modo somehow manages to be vintage and also contemporary. It adds sophistication to any room. Here, it hangs from a 22′ ceiling, above a coffee table. It visually holds the space but doesn't take over the room with its heaviness—even though the size is substantial."
"This chair seems to fit in every decor. It comes in many colors and always seems to bring in style, elegance and just a level of cool."
"This is such an iconic piece. It works just as well in this master bedroom as it would in an office or living space. It has the benefit of being both beautifully crafted and incredibly comfortable and functional."
"This light is both organic and modern, which is why I love it. It has a strong silhouette but is soft and beautiful at the same time. It's perfect in a dining setting and would be beautiful in a bedroom as well."
George Nelson Saucer Bubble Pendant
"I love the Nelson pendant because it has a beautiful, organic shape and casts a warm, soft glow. It's perfect in a bedroom or over a kitchen table. It works well in both modern and traditional settings."
"I love this lamp for its scale and visual weight, and it's an interesting shape and texture. It has an integrated LED light with three brightness settings, so it's great for so many environments. And, it comes in many fun colors."
"This collection was inspired by five of the world's most eminent opera houses. It's a modern interpretation of something old, so it has romantic and dramatic flair. Even though it's all white glass, it stands out against the white walls here because of its lines and folds. It's modern but pays homage to age-old traditions."
More from SPACES:
---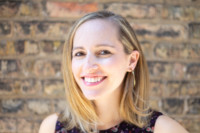 Liz Logan is the editor-in-chief of SPACES. Her writing about art, design and lifestyle, has appeared in numerous publications, including The New York Times, The Wall Street Journal, O, The Oprah Magazine and Martha Stewart Living.