In 2006 Emilia and Tad Buchanan moved their family of five into a spacious, south-facing home in Mill Valley. It had a fabulous floor plan and epic views, to boot. But, after a dozen or so years of nesting, the finishes began to feel dated. "It had that late nineties feel," says Emilia, "Dark cabinets, green limestone. It all felt dark and heavy." So, in 2019, the couple agreed it was time for a refresh.
GOING FOR SPA VIBES
The goal was to create a crisp, modern space with a Zen, spa-like vibe. And with the help of interior designer, Holly Hollenbeck of HSH Interiors, they were able to bring that vision to fruition. Over a period of about seven months, the entire home got a facelift. Nearly every bathroom was gutted, flooring and lighting updated, and architectural details such as window moldings and door casings tweaked. Fortunately, the re-design called for very few structural changes. They enlarged the opening between the kitchen and the living room and resized a picture window. "Beyond that, most of our changes were cosmetic," says Holly. Even so, the transformation was dramatic.
THE KITCHEN
The remodel included creating a new kitchen nook. The banquette seating paired with a Knoll Saarinen Oval dining table abuts the aforementioned resized-picture window. "The view out of it is stunning," says Emilia. The kitchen is also tricked out with custom built cabinets in walnut and white lacquer by Zarin Gollogly Design & Build. A serene blue tile backsplash by Health Tiles accents the woodwork.
THE MEDIA ROOM
Blue tones are echoed throughout the house, most notably in the media room. Phillip Jeffries grass cloth wall coverings, a RH sofa and a custom-colored Erik Lindstrom inkblot-pattern area rug, all in varying shades of blue, converge to create an atmosphere of serenity. "Our family is passionate about surfing and the various blues are a calming reminder of the ocean," says Emilia.
THE LIVING ROOM AND DINING ROOM
The other dramatic change: "The old living room fireplace was huge and made of chunky stone and covered most of the back wall," says Holly. "It owned the room and took your attention away from the bay views, which should have been the focal point." So, Holly suggested they demolish the wall and replace with it with an elegant, though understated, blackened steel fireplace surround. The room also features walnut accents which tie in the family's long-treasured Nakashima dining table.
ADDING SOLAR POWER
The home's exterior also got some TLC, including a new walkway, new fountain and a fresh coat of taupe paint — all of which better reflect the new interior. "We also replaced the garage door and added new outdoor light fixtures," says Emilia. To make their home more energy efficient, they invested in a state-of-the-art solar system designed by Eric Miller of Pac Solar. They also splurged on a backup battery capable of storing excess energy to be used when the power grid goes down as it often does during fire season. "Our electric bill is zero and we can fully charge our battery back-up in two and a half hours," says Tad. The remodeling process can be stressful, and even rife with conflict. But for Tad and Emilia the process was by-and-large seamless. And, for this, she credits Holly for assembling the A-Team of tradespeople. "We were thrilled with their expertise, level of integrity and incomparable skill," says Emilia. "We became friends with many of them and still keep in touch."
More from SPACES:
---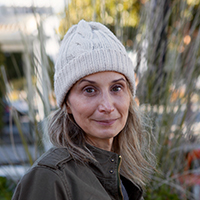 Dawn Margolis Denberg has worked as a professional journalist for 20 years. Her work has appeared in top publications, including Wired, Shape and Parenting. She has also written several books for children including, The Men in Black Agent's Manual The Official Godzilla Movie Fact Book. And, most recently, an episodic audio series for Tales Untold.