Self-proclaimed "water" people, Alex and Petra Bergstein Higby set their sights on a future home on the Belvedere Lagoon, someday. "Our end goal has always been the lagoon," says Petra, who owns The Caviar Co. in nearby Tiburon. "Alex is a professional sailor, and we're both so drawn to the water. A few years ago, we went to a friend's house on the lagoon and thought, 'This is the dream.'"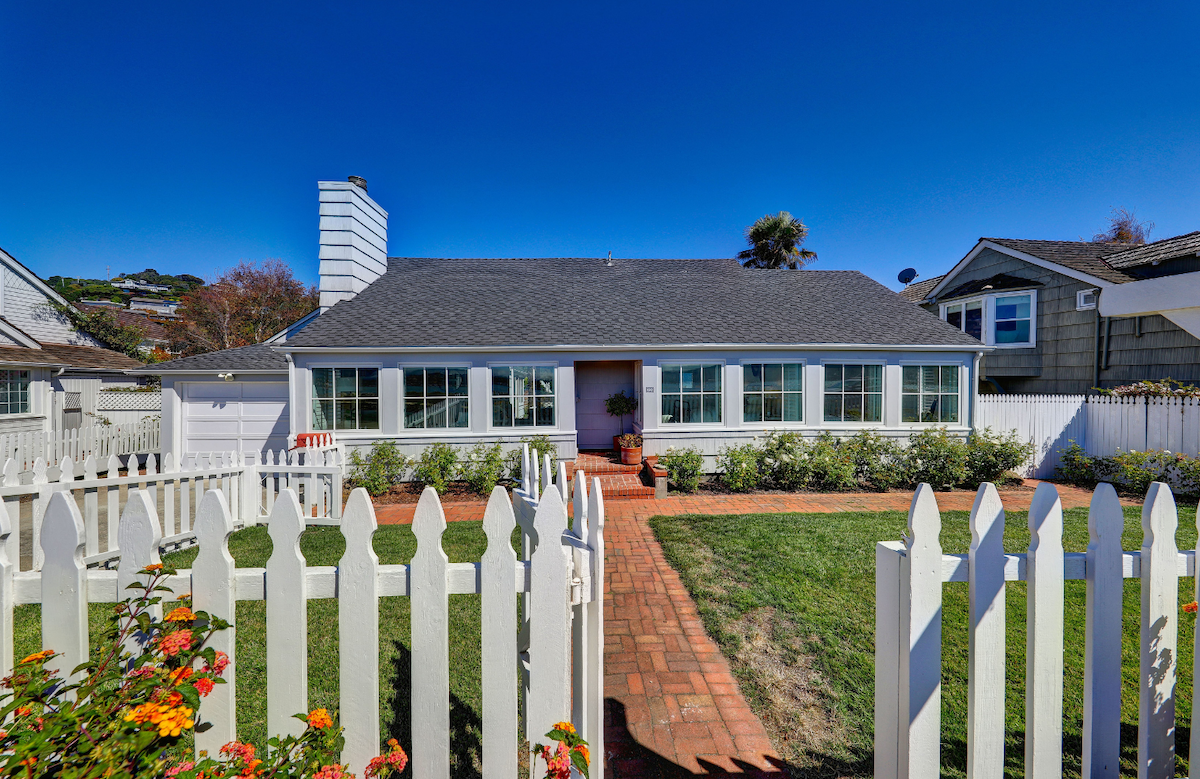 That dream became a reality sooner than expected, and it was thanks, in part, to the pandemic. "My work, which involves a lot of travel, came to a grinding halt; it was a blessing in disguise," says Alex, who races yachts for private owners. It meant more time with their toddler daughter and time to test his architectural skills, adding an extra bedroom and remodeling the kitchen to their existing home in Strawberry.
With the price per square foot of homes rising rapidly in the area, the addition sparked an idea to find a larger home for their growing family (Petra was pregnant at the time with their son), although living on the Belvedere Lagoon still seemed like a dream down the road. Thinking the coveted neighborhood was still out of their price range, they looked at other houses around Strawberry until a friend at the San Francisco Yacht Club connected them with Compass real estate agent Shana Rohde-Lynch.
Homes on the lagoon don't come on the market often, and housing prices rose over the last couple years as families sought to vacation at home, says Rohde-Lynch. "Most houses sell in the $5–$10 million range," she notes. Fortunately, a charming Cape Cod cottage had been on the market for three months with no offers on the table presented an ideal opportunity for the couple. It needed some upgrades and was on the smaller side compared to other homes in the area at 1,700-square-feet, but it was perfect for Petra and Alex with views of the San Francisco Bay, Mount Tamalpais and the Belvedere Lagoon, and just a short walk to downtown Tiburon, where they had one of their first dates. She fell in love with the area, too, that night.
"They were thrilled that the timing was right, and they were able to creatively get there once they sold their Strawberry home," recalls Rohde-Lynch. About a decade earlier than expected, Alex and Petra had found their dream home: a 4-bedroom, 2-bath cottage that affords all the benefits of a vacation at home.
"We love the fact that the front of the house faces Richardson Bay," says Alex. "It's a double waterfront." The private dock out back is the perfect spot for the family's two sailboats, paddle boat, rowboat and paddle boards. "In the morning, we see the sunrise over Angel Island, and at night, we see the sunset over Mt. Tam — it's amazing," says Petra.Alex's new renovating skills will save them on the investment, too. His first project will be expanding the kitchen. "For us, the kitchen is always a really communal place," says Petra. The couple, who love to entertain, found more than a forever home on the lagoon, they also found a community.
"I kept finding banana bread on our doorstep and notes from our neighbors; we didn't have that same feel in Strawberry," says Petra. "Obviously, we love our house — it's really dreamy — but it's also the people. We've become good friends with our neighbors. In the summer, the kids do lemonade stands and the parents have our own lemonade."
In the summer, now with two little ones in tow, Alex and Petra have an open-door policy for friends and family who want to visit and enjoy the idyllic water life or pop by for their ongoing paddle boat race. "It's so nice having people around with the deck on the back," says Petra. "Our social life has changed so much. We just want to fill it with love." "And good times," adds Alex.
The Details
Where They Purchased: Belvedere Lagoon
What They Bought: 4-bedroom, 2-bath Cape Cod cottage
Listing Agent: Shana Rohde-Lynch
Selling Agent: Shana Rohde-Lynch
The Stats: Price per square foot for homes in the area: $2,185
---
Theresa Gonzalez is a Bay Area-based writer specializing in interior design and architecture. She is the author of Sunday Sews (Chronicle Books) and has contributed to San Francisco Magazine, San Francisco Chronicle, Visit California and more.