After a six-year stint in L.A., Harry and Patti Cocciolo returned to Marin in search of a new family home. They had one mandate: "We wanted a place surrounded by nature," Harry says. "Our L.A. neighborhood felt very urban, lots of freeway noise. Part of the appeal of moving back was the opportunity for more privacy and space."
A DIAMOND IN THE ROUGH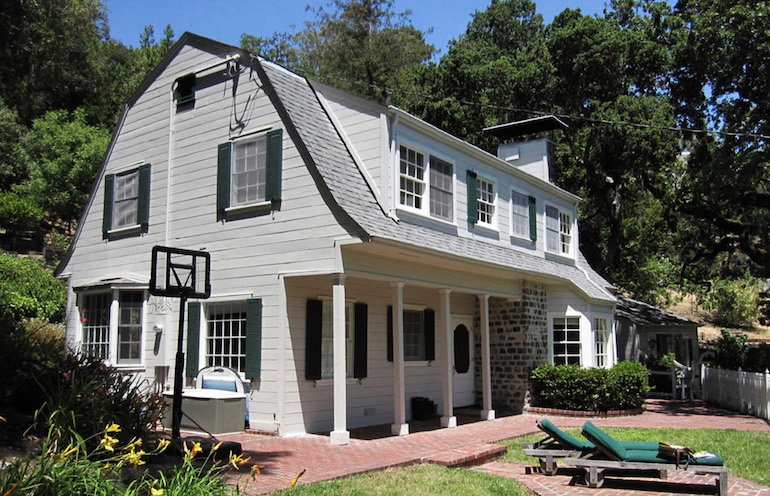 The couple looked at dozens of homes before stumbling upon a Dutch colonial on an acre-and-a-half property dotted with old-growth trees. The home itself was charming but quirky. Despite its oddities, the pair agreed that, with a little vision, this diamond in the rough could be transformed into something special. After investing in a few minor, cosmetic upgrades, Harry, Patti and their two boys moved in. They had ambitious home-improvement plans, but all were wants, not needs. So, they felt no urgency to get going.
But then Patti returned home one day to discover a massive plumbing leak. "Suddenly we had all this water damage," Harry explains. Rather than see this turn of events as a catastrophe, they embraced it as an opportunity. The time was right to gut and modernize the 65-year-old structure. The couple didn't have to scramble to put together their design team. They simply dialed up Julie Brown, principal at Re:Design in Mill Valley and a close family friend. "We had complete trust that Julie would help us remake the house into a space that would look great and work well for our family of four," Harry says.
GLASS WALLS BRING IN NATURE
After the couple agreed on the budget and scope, Julie reached out to an architect, Daniel Weaver of the Mill Valley-based firm 361 Architecture. The design he came up with called for a 327-square-foot bump-out to create a great room with two floor-to-ceiling glass walls, which look out at nothing but trees and wildlife. The east wall opens up, allowing for a seamless flow between indoor and outdoor spaces. Part of what was previously a small family room became a home office.
AN OPENING STATEMENT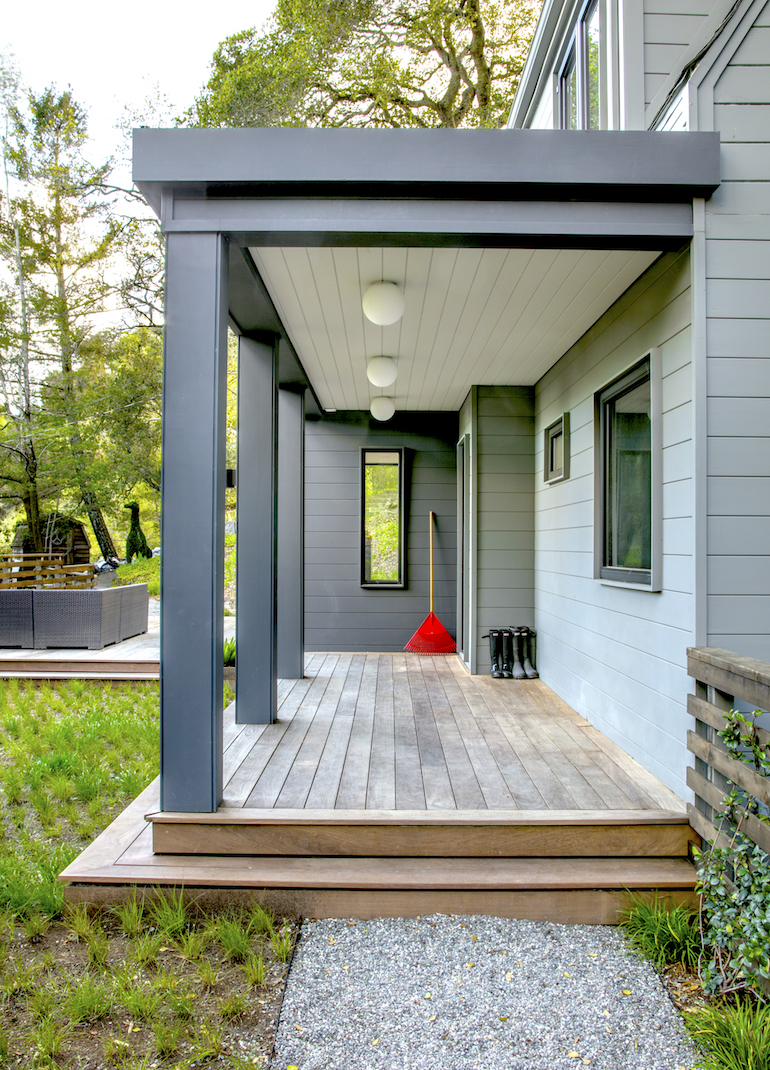 The home's front entry also got a makeover. "The way the house sat on the site, there was no obvious path to the front door," Weaver explains. "We corrected this by creating an inviting front porch and adding a gravel path that guides you from the front gate to the front door." All three bedrooms were also reworked, though it was the couple's master suite that changed most dramatically. A walk-thru closet was added for additional storage. And the master bath was gutted and enlarged to make room for his-and-hers sinks.
EMBRACING THE RUSTIC AND THE INDUSTRIAL
Design-wise, the team embraced old and new materials to pay homage to the home's original design. "We intentionally added a few rustic and industrial details," Julie says. Salvaged wood boards from the original house were used to create a barn door for the office. Instead of wrapping a steel I-beam in sheet rock, it was left exposed. Steel accents were also used atop a peninsula credenza that separates the kitchen from the new great room, and on the fireplace surround. The only portion of the house that has yet to be renovated is the laundry room and kitchen. The couple has already reassembled their "dream team" to take on these final rooms.
THE DETAILS
Where it Is: The Bald Hill Neighborhood of San Anselmo
What it Is: A three-bedroom, two-and-a-half-bath industrial farm house
Architect: Daniel Weaver of 361 Architecture in Mill Valley
Interior Designer: Julie Brown of Re:Design in Mill Valley
Contractor: Kamran Misaghi of Kami Construction in Albany
---
 More from SPACES:
---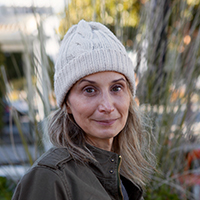 Dawn Margolis Denberg has worked as a professional journalist for 20 years. Her work has appeared in top publications, including Wired, Shape and Parenting. She has also written several books for children including, The Men in Black Agent's Manual The Official Godzilla Movie Fact Book. And, most recently, an episodic audio series for Tales Untold.