When the pandemic hit San Francisco, a couple decided it was time to leave the city in favor of a 4,000-square-foot home in the Marin County community of Larkspur, where they looked forward to enjoying the hiking trails. The homeowners enlisted designer Kirsten Pike to redo the home's kitchen, bathrooms, decor and furnishings. "They wanted a nature theme, after having been in the city for so many years," Pike says. "But they weren't really fans of houseplants, so that's where my skill set as an artist came into play. We used murals to recreate nature, with a little whimsy."
Pike grew up in Copenhagen and has lived in Northern California since she was an undergraduate at University of California, Berkeley. She opened Kirsten Pike Design 13 years ago. Living in a European culture that celebrates both the historic as well as the modern molded her artistic sensibility. "I try to create a daily experience for my clients," she says. "That means paying homage to the beauty of the past, as well as finding the beauty in what's being created now."
THE BEDROOMS
In this house, marrying past and present involved combining the modern furnishings the couple favored with a few well-chosen antiques. In the master bedroom, a bed and lounge chair from Ligne Roset contrast nicely with an antique French cabinet found on 1stDibs. A large-scale floral wallpaper plays well with the antique motif wallpaper, which Pike cut and framed in a symmetrical grid, forming a backdrop for the bed. Both wallpapers are in shades of gray and white. The hands-on project that benefited from Pike's artistic eye and ability to play with scale.
THE KITCHEN
The kitchen uses both natural materials, like a stunning backsplash made from lava stone (Pike had the porous stone sealed so it can be easily cleaned) and references to the outdoors, such as a plaster-lined FLOS Skygarden pendant. "I've long loved this iconic pendant, and I knew I would use it in a project," Pike says. "It's simple on the outside and ornate on the inside, marrying Old-World craftmanship with a modern form." The drama of the room established with the textural backsplash continues with a waterfall marble island that has eye-catching dark-gray veining and a custom, steel range hood.
LIVING SPACES ADORNED WITH MURALS
What continues to catch the eye throughout the rest of the house are the murals Pike painted herself. Using the home's palette of grays, black, mustardy yellows and white, Pike painted accents inspired by plants and flowers. At the end of the upstairs hallway, an oversized yellow-and-gray blossom pops off a black wall. In the main living room, a 24-foot-long mural combines fantastical flowers with Middle-Eastern inspired buildings—a nod to the husband's heritage. It all surrounds a bespoke fireplace. A dyed, vintage Persian rug anchors a dramatic coffee table by Phillips Collection and two Hans Wegner Ox Chairs. "My murals are very different with every client," Pike says. "Some are very precise and linear, but all of these were whimsical and natural. We uniquely tailored this house to the client."
---
More from SPACES:
---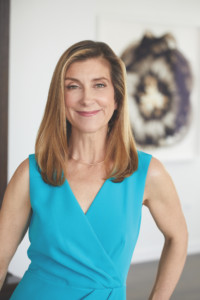 Laura Hine is a design and style writer based in Chicago. She's a former editor-in-chief of Better, as well as the Modern Luxury publications CS Interiors and NS.