Every year, we know, rationally, that spring will come. Yet, when it finally does, it always feels miraculous. These four wallcoverings capture that sense of exuberance along with a heaping dose of sophistication. These are not your grandma's florals.
If subtle lily pads are more your speed, look no further than this dreamy wallpaper by artist Colette Cosentino. Cosentino is known for creating richly atmospheric murals for top interior designers, including John Saladino. She's based in Santa Barbara and looks to the outdoors for inspiration. This wallpaper transforms a room into an ethereal water garden, complete with hanging vines and lotuses. Layers of translucent paint give the wallpaper depth.
To the trade, find a showroom here.
"Enchanted Forest," by Holly Hunt
Midwestern design juggernaut Holly Hunt is synonymous with quality and craftsmanship, so when it launched its first wallcovering collection, Holly Hunt WALLS, last year, the design world sat up and took notice. Enchanted Forest, which suggests a landscape of sun-dappled trees without being too literal, is indicative of how luxurious these wallcoverings are: Silver or gold metallic foil is printed on a textured background for a richly tactile, 3-D effect.
Price upon request, find a showroom here.
"Märchen" by Nicole Fuller, for Fromental
Talk about flower power. This hand-painted silk wallcovering, inspired by peonies and the dripping flower paintings of artist Cy Twombly, manages to be simultaneously cheerful and unsettling. It was created by New York City-based interior designer Nicole Fuller, whose clients include Usher and Zac Posen. Fuller is known for her boldness; "Märchen," which comes in seven colorways, is no exception.
$522 per square yard, find a showroom here.
"Wave and Blossom," from the Gracie Collection by New Ravenna
Virginia-based company New Ravenna is known for its hand-cut glass mosaic wallcoverings, which are particularly useful in kitchens and bathrooms where wallpaper would be impractical. "Wave and Blossom" sprang from a collaboration with the hand-painted wallpaper company Gracie. It takes cues from Japanese art from the Edo period. The mosaic includes 24-karat gold, moonstone, obsidian, jasper, amber and tortoise shell, among other materials. A single panel requires several weeks of work and multiple artisans.
Price upon request, find a showroom here.  
---
More from SPACES:
---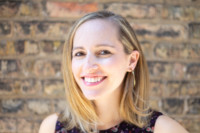 Liz Logan is the editor-in-chief of SPACES. Her writing about art, design and lifestyle, has appeared in numerous publications, including The New York Times, The Wall Street Journal, O, The Oprah Magazine and Martha Stewart Living.