The best minds in interior design and architecture meet once a year at the PowerHouse Smart Luxury Conference, a national event that took place virtually this year on March 2 and 3. It was hosted by PowerHouse Smart, an international group based in Chicago that provides networking, education and referrals within the industry. The theme was "Build a Sustainable Future Together."
Expert Advice
The program, featuring a wide range of expert speakers, included a panel on design-build collaborations, hard-hat tours of exceptional new designs, and talks on Pinterest's impact in the design world and smart technology.
A CEO's Take on Sustainability
Susan Noyes, founder and publisher of Make It Better Media, has renovated several homes to the highest environmental standards. She spoke about what sustainable living means to her and why sustainability and community are key focuses at Make It Better Media. "Sustainability, community, mission, meaning and connection have become the mantra of the most successful businesses now," she said. "The savviest consumers don't just want a beautiful home. They want one designed and built to showcase amazing art and local artisans, using multi-generational family-owned businesses as suppliers, using energy efficient systems and landscapes designed to the highest green standards."
How Designers Can Give Back
Noyes also spoke about her passion for Designs for Dignity, the event's nonprofit partner; she's been a supporter of the organization for many years. Designs for Dignity is dedicated to transforming nonprofit spaces through pro-bono design services and in-kind donations. It's a great example of how design professionals can give back.
---
More from SPACES:
–A Marin County Remodel is a Zen Retreat in Shades of Blue
-Artist and Philanthropist Paula Crown on How Art and Activism Intersect
–A Mill Valley Home for a Family of 3 is Laid-Back, Light-Filled and Modern
---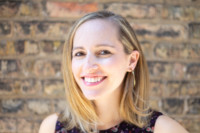 Liz Logan is the editor-in-chief of SPACES. Her writing about art, design and lifestyle, has appeared in numerous publications, including The New York Times, The Wall Street Journal, O, The Oprah Magazine and Martha Stewart Living.