Ben Lenhardt loves gardens fervently, and he's got the résumé to prove it. Lenhardt, who lives in Winnetka, and in Charleston, South Carolina, retired from a successful investment management career to focus intently on his passions: gardening and historic preservation.
In Winnetka, he filled his ravine garden with Caesar's Brother Siberian iris and Japanese butterbur. He took on many philanthropic roles, including serving as chairman of the Garden Conservancy, a national nonprofit dedicated to preserving and celebrating outstanding gardens. (He's now chairman emeritus, in addition to serving on the board of the Chicago Botanic Garden, where the Lenhardt Library bears his name). 
A few years ago, he got the idea to write a book about gardens on Chicago's North Shore, because he felt the Midwest was overlooked in the gardening world. The result was Gardens of the North Shore of Chicago (The Monacelli Press, 2020), which takes readers into 25 private gardens and showcases the work of some of Chicago's best landscape architects, such as Craig Bergmann and Scott Byron. 
SPACES Editor-in-Chief Liz Logan caught up with Lenhardt to find out more about what makes North Shore gardens special. Here's an edited version of that conversation.
Why was it important to you to write this book?
There are many wonderful books about gardens across America, but most of them are on the coasts. There hadn't been a book written about gardens on the North Shore of Chicago for over a century. We have a relatively short growing season here. Nonetheless, we have some of the finest gardens in America. I wanted to tell people this is not a wasteland. This is a vibrant, amazing horticultural place. 
The book is divided into sections of different garden styles: classic, contemporary, country and naturalistic. Personally, I like contemporary architecture, so I was drawn to Crab Tree Farm Summerhouse in Lake Bluff. Can you tell me about that one?
Crab Tree Farm is a historic site, with pastures, a dairy farm and a house. The estate was bought by John and Neville Bryan. They preserved the original house and also built their own contemporary house. They wanted a contemporary landscape, so they hired Belgian landscape architect Peter Wirtz (whose father, Jacques Wirtz, was famous for designing hedges in various shapes and forms). 
Peter did all sorts of wonderful things. There are hornbeam hedges with pastures beyond. It's a very contemporary garden in the middle of a beautiful forest and pasture. 
John successfully led the private sector fundraising efforts for Millennium Park. So, Anish Kapoor, know for his famous sculpture "Cloud Gate," gave John a prototype plate from "Cloud Gate," as a thank you. That piece of the sculpture is at the end of a walkway covered with a pergola of pollarded plane trees. It's extraordinary, the unusual way the trees are clipped and pruned.
Can you give me another example of a tree or a shrub in one of the gardens that was treated in an unusual manner? 
Definitely. At Camp Rosemary in Lake Forest, there's a hedge of pleached Bradford pear trees. Typically, Bradford pear trees are planted and left to grow, but here they've been shaped. Camp Rosemary is the quintessential English garden in the Midwest—if not in America. It's perfectly manicured and beautiful, with borders galore. 
Everyone in Chicago knows of Bill Kurtis. What was it like to visit his home, Mettawa Manor?
There are many gardens on the property, but one of Bill's favorite things is the prairie. Bill grew up in Kansas and loved the prairie, so he took this flat part of the property, 30 acres, and created a tall grass prairie. There's Blazing Star in bloom, along with other native plants. It's just amazing. 
The garden called "Beauty Without Boundaries" in Winnetka speaks strongly to the values of its owners. Can you tell me about it?
This garden belongs to Pat and Shirley Ryan. Shirley is a renowned philanthropist in the area of disability—among her accomplishments, she founded Pathways.org—so it was important to her that the garden be accessible. So, there are smooth, broad paths and no steps. Also, Shirley grew up in Indiana and her family went to Holland, Michigan, every year for the tulip festival there. So, tulips, in many colors, abound. 
What do you hope gardeners glean from the book? 
I hope they'll learn about Midwest horticulture and also find something that they might like to try. Gardening is a lot of trial and error. You can try these gardens on a small scale. For example, in one garden, an Espalier fruit tree is grown on a fence. What a beautiful way to have a fence! 
People have been spending a lot more time outdoors because of the pandemic. Do you think people are appreciating gardens more?
Absolutely. Gardens are a wonderful consolation. They're quiet retreats, but they also stimulate the imagination. Nursery sales are up. People have discovered the peacefulness of the garden. But us gardeners, we've always known this.   
---
More from SPACES:
---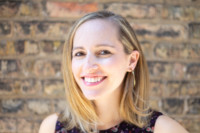 Liz Logan is the editor-in-chief of SPACES. Her writing about art, design and lifestyle, has appeared in numerous publications, including The New York Times, The Wall Street Journal, O, The Oprah Magazine and Martha Stewart Living.