In an ongoing pandemic, so many things have gone virtual—including interior design, as surprising as that sounds. Last spring, when lockdown began, the design industry ground to a halt. Paradoxically, many people were home and keen to improve their spaces. 
So, Jake Arnold, an L.A.-based designer whose clients include Chrissy Teigen and John Legend, Rashida Jones and Julianne Hough, decided to try a new tack. He and other designers were overwhelmed with social media messages asking for advice. His friend Leo Seigal, a tech entrepreneur, encouraged him to test a few virtual sessions with a select group of followers. 
"I immediately realized how much could be accomplished in just under an hour, and knew an innovative concept had been hatched," Arnold recalls. 
Early this year, the duo officially launched The Expert, a virtual platform that connects clients directly with more than 100 interior designers around the globe, including some of the top names in the business: Brigitte Romanek, Martyn Lawrence Bullard and Bobby Berk, to name a few. 
Sessions, which are 55 minutes long, range in price from $400 to $2,500. No topic is off-limits: The designers advise on furniture sources, art, decor, lighting and color schemes, or even, more intensively, full-scale home renovations. 
"For the designers, it's been really rewarding to be able to put our touch on so many more homes in a non-traditional way, regardless of budget and project scope," Arnold notes. The Expert's success—the business brought in six figures within a few months of its beta launch—suggests that the format is here to stay, and at least one competitor service is on the way.  
If you're thinking about a virtual consultation, here are 5 designers you might want to click on, with styles ranging from contemporary to traditional. 
Style: Contemporary
Price: $1,000 for a 55-minute session
 

 

 

View this post on Instagram

 

 
This L.A.-based firm, founded by Krista Schrock and David John Dick, was named one of L.A.'s top interior design firms in 2019 by the Hollywood Reporter. DISC is known for deftly mixing contemporary design with traditional elements, with, as they say on their website, "an appreciation of imperfect beauty." "Our projects are filled with vintage furniture and rugs juxtaposed against custom upholstery, allowing homes to feel contemporary, yet classic and familiar," they write. 
 

 

 

View this post on Instagram

 

 
One example is a historic French Chateau-style house designed by the trailblazing architect Paul R. Williams, which the duo adapted for relaxed family living. It's featured in their book, Portraits of Home, which was published by Rizzoli earlier this year. They chose custom upholstered pieces in a palette of handsome grays to provide ample seating that wouldn't compete with the owners' prodigious contemporary art collection. They also turned to a few well-chosen anchor pieces: Gabriel Scott stools, a bronze and brass cocktail table and re-editions of Jean Royere chairs. In the dining room, watercolor-inspired wallpaper softens a Gio Ponti-designed table and leather dining chairs.
"We favor rooms that reveal themselves quietly over time and offer ease to our clients—homes of calibrated simplicity that balance the push and pull of modern life," they write on their website.
Style: Midcentury modern
Price: $500 for a 55-minute session
A rising star in the design world, San Francisco-based designer Michael Hilal has completed projects throughout California and is known for his earthy, California-modern aesthetic. 
"When I approach a project I want to see natural stone, wood grains, patina on everything, and a lot of handmade finishes," he told Architectural Digest earlier this year. "I don't want items to be shiny and glossy. California is a little sun beaten, so even the 'perfect' has to be a little imperfect."
For a new-construction home in San Diego, the clients wanted a midcentury-modern style, without the space feeling like the set of Mad Men. Hilal accomplished this by mixing in a few well-chosen midcentury pieces—Charlotte Perriand stools, Verpan dining chairs— with contemporary art and furniture, including work by local designers. (For the room pictured below, Hilal chose a Jason Miller sofa from the Future Perfect and architectural wood chairs by local designer Nicholas Bijan Pourfard.) The result is sophisticated, livable warmth.  
 

 

 

View this post on Instagram

 

 
Style: Neoclassical
Price: $1,500 for a 55-minute session
 

 

 

View this post on Instagram

 

 
Windsor Smith was named by Veranda magazine one of 25 design influencers in the magazine's 25-year history, and her book, Homefront: Design for Modern Living, published by Rizzoli, was named one of the top 20 design books of 2015 by Architectural Digest. She's known for creating elegant and opulent interiors—with ornate crystal chandeliers, antique mirrors, nailhead trim and the like—that are also highly livable. Gwyneth Paltrow is a fan, and once bought a spec home that Smith created.
 

 

 

View this post on Instagram

 

 
More recently, Smith created "The New Homefront," a 13,000-square-foot Brentwood, California estate designed with wellness in mind. (The home sold for $22 million earlier this year). The Neoclassical interiors celebrated indoor-outdoor living, with air-purifying garden plants and door to the outside throughout. 
Style: Rustic
Price: $800 for a 55-minute session
Lynn Kloythanomsup, creative principal of Landed Interiors, has worked for top interior designers in the Bay Area for more than a decade. Her Berkeley-based firm lives up to its name: It's grounded in honoring heritage architecture and historic furnishings. 
For a renovation of a 1936 home, Kloythanomsup took care to install new windows and doors that matched the old style. She drew inspiration from the Storybook architecture of 1920s Los Angeles, which exaggerated period styles. The style also calls for classical materials of solid quality, according to the Landed website. Of the home's kitchen, Kloythanomsup wrote on Instagram, "It has some of our key elements (no recessed lighting ever! no upper cabinets please!) It's basically our version of 'No Wire Hangers.' "
Similarly, for a San Francisco Arts and Crafts home, the owner was inspired by English country houses, so Kloythanomsup created a farmhouse kitchen with salvaged wood, brick and marble. Wood flooring is painted with a checkerboard design. Antique furnishings and patterned wallpapers "accentuate the client's taste for eccentric English playfulness," according to the firm's website.
 

 

 

View this post on Instagram

 

 
Style: Bohemian
Price: $650 for a 55-minute session
Utah-based interior designer Meta Coleman was deeply influenced by her childhood vacations, in the European countryside and visiting her family in Germany. Hence her love of antiques, Old-World details and charming touches such as wood-burning enamel fireplaces.
 

 

 

View this post on Instagram

 

 
Her style is unusual, among the ubiquitous minimalism and neutrals from interior designers these days: She boldly mixes and layers textures, colors and patterns. She's not afraid of upholstering a sofa in a cheerful pattern, or covering a wall with elaborately painted tiles.
 

 

 

View this post on Instagram

 

 
The effect, if not quite maximalist, is cozy, whimsical and welcoming. Her goal, she writes on her website, is to "achieve beautiful, inviting, personal spaces that transcend trends and are an expression of the homeowner."
---
More from SPACES:
---
Stephanie Fallon is a freelance writer who has spent her professional career in non-profit adult education, first in adult English literacy at Blue Ridge Literacy and then overseeing interpretation and public programming for the Taubman Museum of Art. She lives in Roanoke, Virginia and writes about visual culture, design, motherhood, and work. 
---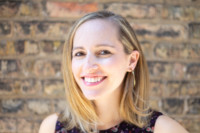 Liz Logan is the editor-in-chief of SPACES. Her writing about art, design and lifestyle, has appeared in numerous publications, including The New York Times, The Wall Street Journal, O, The Oprah Magazine and Martha Stewart Living.