A construction boom is happening in backyards across America as families swap precious lawn and garden space for something even better: a coach house, casita or other type of accessory dwelling unit (ADU). 
Such structures were common in decades past, but increasingly tight zoning laws put the kibosh on the practice. A lack of affordable housing, however, has prompted many municipalities to those revisit rules and regulations. This spring, for example, Chicago rolled out a pilot program to allow ADUs in five neighborhoods.
While ADUs undoubtedly increase the housing supply, many families are discovering the personal benefits of these spaces, which can be used offices or studios, places for aging parents to live or spots to entice older children to come back home. 
"It's about making our houses work for us 24-7, and this is extra space that's slightly removed," says architect Mary Maydan, noting people are working from home more than ever after the pandemic. "An ADU is becoming a must-have."
A MULTI-GENERATIONAL SPACE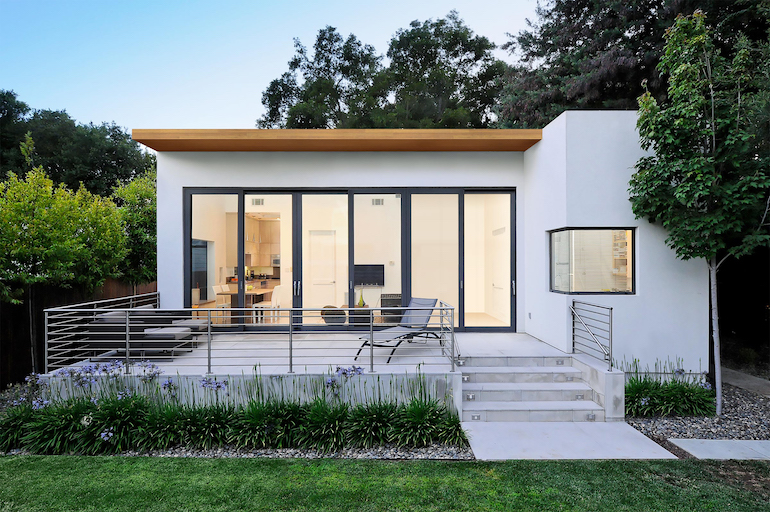 Maydan was something of a trailblazer when she pitched her husband on the idea of building an ADU in their Palo Alto backyard in 2004. The result is a white stucco structure that mirrors the main house. Soon, her 60-something parents moved in.
"It was great for them to be right across the yard," she says, noting they helped take care of her four young children. 
The situation worked out so well that when the Maydans built a new home three years ago, they included an attached ADU, so their parents can stay even closer. As for how the first ADU affected their original property value?
"We definitely got a premium for it," Maydan says. "It's a good investment."
A MULTI-FUNCTION SPACE
Space 10 Interiors co-founder Jennifer Glynn has recently designed several ADUs in the Bay Area and notes there are four in her neighborhood alone. In her experience, most serve multiple functions. 
Clients Josh and Gretchen Meighen, for example, use their Half Moon Bay casita as a guest house, workspace, school spot, Zoom room and party pad. "With a big family and growing space needs, it just made sense," Gretchen says. 
Aware that the family of six would be putting the dwelling through its paces, Glynn put durability right alongside style, selecting concrete flooring, an easy-to-clean vinyl photographic mural wallcovering and manmade countertops, such as porcelain rather than stone. 
"An ADU can be built using durable, budget-friendly finishes and products and still look very high-end," Glynn says. Finished in December of 2019 after a leisurely two-year construction, the space has exceeded the family's expectations. "We're in there all the time," Josh says.
A WORK-FROM-HOME RETREAT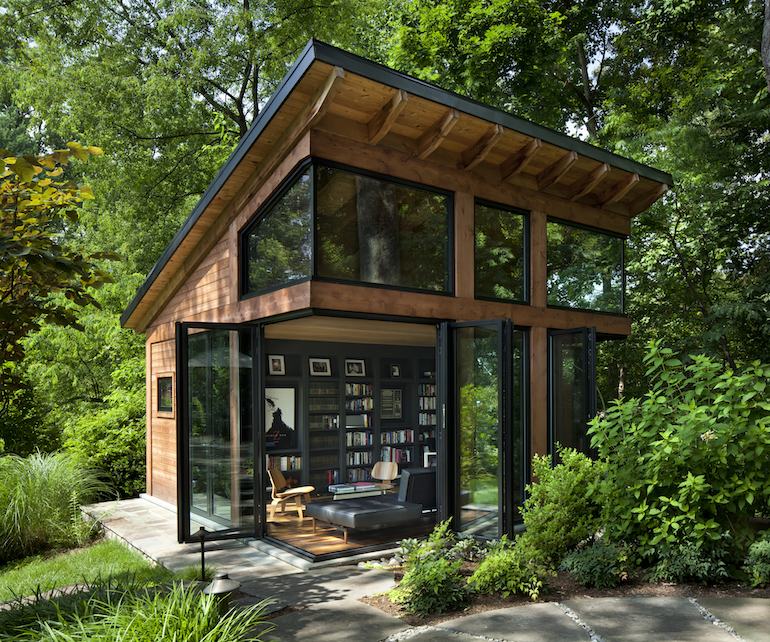 Located on a forested 1/3-acre lot in Arlington, Virginia, this 400-square-foot writer's retreat by Harrison Design quickly became "an Instagram sensation," says principal architect, Bulent Baydar, noting that the firm is are also seeing increased interest in such spaces.
It's easy to see why. Surrounded by lush landscaping, the structure sports a folding door that allows the house to be opened up along one side. A second-floor balcony built into the angled roof offers a bird's eye look at the wooded property. 
The interior is likewise innovative, with a door to the powder room concealed within an entire wall of painted bookshelves. An iconic Eames lounge chair and other midcentury-inspired furnishings pop against the painted shelving and wood floors and ceilings. 
"It's an inspirational space where the writer has produced a multitude of works in the last couple of years, while also having three young kids at home," Baydar says. "It also serves as a fun folly in the yard to visit when guests come over."
(See another project by Harrison Design here.)
A TRICKED-OUT SHED
In addition to full ADUs with electric and plumbing, the Colorado-based company Studio Shed has built a thriving business creating freestanding, prefabricated backyard studios. Created with recycled materials and high-efficiency glass, these upgraded sheds have a light footprint in both square footage and environmental impact. Several models are available, and each can be customized with unique color combinations and door and window placement.
Even better, they can be shipped anywhere, and the company takes care of permitting, if necessary. 
"This is an easy, affordable way to add residential-quality finished square footage to your home," says co-founder and creative director Jeremy Nova. "It's simpler than a remodel or addition, has a better ROI and is completed in a fraction of the time."
BUILDING AN ADU? HERE'S WHAT YOU NEED TO KNOW. 
Flexible-use furniture allows a space to be multi-purpose. A Murphy bed, for example, can transform an exercise studio into an extra bedroom when needed. Lightweight furnishings (all the rage right now) that can be easily moved around allow you to reconfigure your space.
Well-chosen wallcoverings can make a space look bigger than it is. A photographic mural elevates the Meighen's ADU, turning what is essentially a box inside of a box into a feature. "A simple wallpaper treatment can turn a negative into a positive," Glynn says. 
Choose durable finishes to create a long-lasting space. Durability is always top-of-mind when Glynn designs an ADU. For example, she outfitted the Meighen's guest home with strong porcelain wall tile, concrete flooring with radiant heating, sturdy Flor wall tiles and laminated oak doors by SemiHandmade. 
Bigger is not always better. "Sometimes a smaller unit will fit in the landscape better and even a single-room studio can have big lifestyle benefits," Nova says. "For those considering an ADU, a quick call to your local building department is a first step to answer a lot of common questions."
More from SPACES:
---
Tate Gunnerson is a Chicago-based freelance journalist with an equal appreciation for natural beauty and good design.