A couple raised four children in the home they lived in for 21 years, and after their youngest child launched, the couple sold the family home, moved to San Francisco and began looking for property in the tiny coastal community of Point Reyes. 
"I had a file of architects in the area, and I noticed that everything I loved was designed by Gustave," says the wife, speaking of architect Gustave Carlson, principal at Gustave Carlson Design, which he founded in 1999. "We were looking at a property and I randomly called him. He took the time to answer a few questions and said he'd be willing to come out and look at the property with us." 
Though they didn't buy that first property, Carlson's thoughtfulness stayed with the homeowners. After a year of looking, they found a small cottage on a lovely property complete with an old dairy barn, and their first call was to their new architect.
A KITCHEN WITH A CATHEDRAL CEILING
After much consultation and talking about their next phase of life, Carlson presented the couple with three plans; the one they chose included an open kitchen with a soaring cathedral ceiling.
"We liked that the house was smaller—a ranch—and we could see ourselves aging in place in this home," the wife says. "We also knew this space would let us feed and entertain large groups of people." 
Carlson achieved this modern sense of space in the relatively small home—it's only two bedrooms and two bathrooms—by converting an existing two-car garage into the kitchen and opening everything off of that space.  In addition to the new kitchen and living area, Carlson and builder Tomrose Construction also remodeled both bedrooms and bathrooms plus added a walk-in closet. 
THE DECK AND HOT TUB
The team also tackled the home's exterior, replacing the existing windows and cladding the house in a fire-resistant fiber-cement board siding. The exterior renovation also added an L-shaped deck that spans the length of the home. 
"The outdoor space is intended to commune, not compete with its natural surroundings," Carlson says. "We based the design on fluidity, making sure there was easy indoor-outdoor access." 
The outdoor deck also accommodates a built-in cedar hot tub that looks out on the property's existing barn. The wife jokes, "If you're in Marin County, you're required to have a wooden hot tub!"
A BLACK-AND-WHITE PALETTE
Inside, the wife took the lead on furnishings. "We started over with furniture, but we haven't rushed to fill the space," she says. "We like the openness, but we do want to get a big expandable table for family meals."
The decor works with the home's cohesive palette of black and white with natural wood accents. There are the white walls, black-framed windows and walnut cabinetry. The design standouts are in inky black: a built-in window seat provides a friendly vantage point to wave at neighbors walking by, and a dimensional tile wall that's both a practical and dramatic backdrop to the wet bar. 
The project benefited from a high level of collaboration—evident from the homeowner's first call for help. "We talked a lot about flow, how to open the rooms and make them work without rebuilding the whole house," Carlson says. "These clients had great energy and they enjoyed the process, which translated into the design."
---
More from SPACES:
---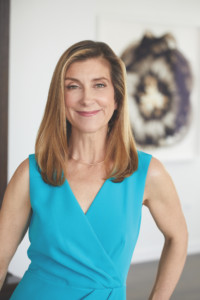 Laura Hine is a design and style writer based in Chicago. She's a former editor-in-chief of Better, as well as the Modern Luxury publications CS Interiors and NS.