Triathletes are fanatical by nature. To swim, bike and then run for miles requires dedication and, of course, an amazing gym where one can train when the weather isn't cooperative for cycling or running outside. Jim Westover, a partner and principal at the San Francisco-based firm William Duff Architects, recently finished a home gym for a triathlete that's spades more stylish than the average basement corner. 
"We started working for these clients in 2010 when we remodeled the family's main house," he says of the project, which is located on the San Francisco peninsula. "That renovation included a significant addition, gut remodel of the existing house and a new garage with a room that could be used as a gym."
Westover and his team are known for award-winning residential renovations and new construction, as well as commercial projects such as retail stores and wineries. Loving their home renovation, the clients called Westover and asked him to add an addition to the garage, which would replace the relatively small gym with a first-class training center for the husband, who is a dedicated triathlete and a tech entrepreneur. 
FITNESS CENTER MEETS POOLSIDE HANGOUT
For the rest of the family, they requested that space be nice enough for more casual fitness enthusiasts to enjoy, as well as provide amenities for family and guests when they use the adjacent pool.  "They wanted something a little more modern, but still relating to the main house, which is colonial-style," Westover says. "The finishes were very important." 
OPENING TO THE OUTDOORS
At just over 1,000 square feet, the addition to the existing garage has custom-colored engineered wood floors, a tongue-and-groove ceiling, and large sliding glass doors that cleverly track past wood columns, allowing the gym to open to the pool. 
"We wanted the space to function as indoor/outdoor space, and by fully opening the glass doors, you have that feel," Westover says. 
Westover adds that the dividing wood columns keep the space from looking too stark and modern, and tie the new addition to the existing home's traditional style. The project also includes architectural details like a standing seam metal roof and new exterior stone tiles that were also chosen to connect the modern addition to the existing pool area and house.
A FLEXIBLE FLOOR PLAN
In the main gym area, heavy equipment sits on mats to protect the white oak flooring and allow them to be moved around for maximum flexibility in the floor plan. The exercise gear includes spin bikes, rowing machines, a treadmill, a bike trainer, weight machines and free weights, along with plenty of room for a post-workout stretch or yoga practice. 
"The client had a very specific vision of how his workout was organized so there was a logic to how the equipment was laid out," Westover says. "I definitely learned a lot—there were pieces of equipment that I had to Google." Those pieces include the Vasa SwimErg, a machine for swim training, and Concept2 SkiErg, a machine that provides a workout similar to skiing. 
For family members who are a little less intense and want some distractions while working out, there's a flat-screen TV and a sound system.
A SPA BATHROOM 
To finish, Westover included amenities that elevate the space to that of a luxury spa. The bathroom, which is located so that pool users can access it without walking through the gym, includes a steam shower, Kohler fixtures and dark mosaic tile. 
A TRICKED-OUT KITCHENETTE
Equally important is the kitchenette with appliances by Bosch and Sub-Zero to house recovery beverages for exercisers and recreational beverages for sunbathers. The kitchenette makes entertaining poolside a breeze, with everything just steps from the action. 
With these levels of finishes, Westover achieved the family's goal of creating an inviting space that was luxurious enough to use even when not exercising. "This is the largest gym we've ever done for a family," Westover says. "And with the pandemic, it got even more use than they ever expected."
---
More from SPACES:
---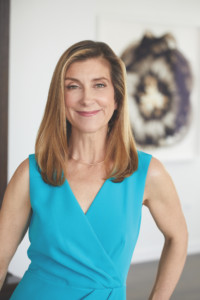 Laura Hine is a design and style writer based in Chicago. She's a former editor-in-chief of Better, as well as the Modern Luxury publications CS Interiors and NS.