If you've always loved weavings, macramé, or quilts, you're in luck: We are living in a Golden Age of craft. In recent years, the art world has embraced artists who work in traditional craft mediums—such as fiber, clay and metal—more fully than it ever has before. 
In part, this is because the art world is bringing in voices that have historically been underrepresented, such as Black and indigenous artists. The scholar Glenn Adamson, author of Craft: An American History, wrote last year: "You can make a strong case that the long-standing marginalization of the crafts was just the art world's way of practicing sexism and racism, barely disguised as a policing of disciplines rather than people. At long last, we have arrived at a reckoning."
Fiber art can be not only thought-provoking and meaningful, but also it looks great in homes. Works in fiber add texture and depth—essential components of well-crafted interiors. 
Here are 5 outstanding artists in California who work with fiber; in just this one state, there's a rich tapestry of styles and approaches. 
WINDY CHIEN
Windy Chien (pronounced like the Windy City, last name like Chen) is easily one of the most exciting artists working in the Bay Area today. Her intricate works range from a single knot that could fit in a child's hand to grand, wall-size installations that private collectors lust after. 
Chien dove headfirst into her art career in 2015, following long careers at Apple and as owner of the well-known music shop Aquarius Records. Since then, she's been commissioned by Google, Lululemon and Nobu Hotels, among many others. In 2016, she learned a different knot every day for a year—a project that ultimately culminated with her 2019 book, The Year of Knots.
She writes on her website, "My work elevate the vernacular forms of knots to inspire awe and understanding. To the intersection of function, mathematics, and history where knots reside, I introduce aesthetics to illuminate what's most fascinating about them: the journey of the line."
Chien's work was exhibited earlier this year at Sarah Shepard Gallery in Larkspur, and has been exhibited in several museums, including the San Francisco Museum of Craft and Design.
JOE CUNNINGHAM
Joe Cunningham adds a heaping dose of irreverence and audacity to the historic medium of quilting; he deconstructs and wildly reinterprets traditional patterns with his abstract, improvisational style. There's no disputing that his quilts have energy.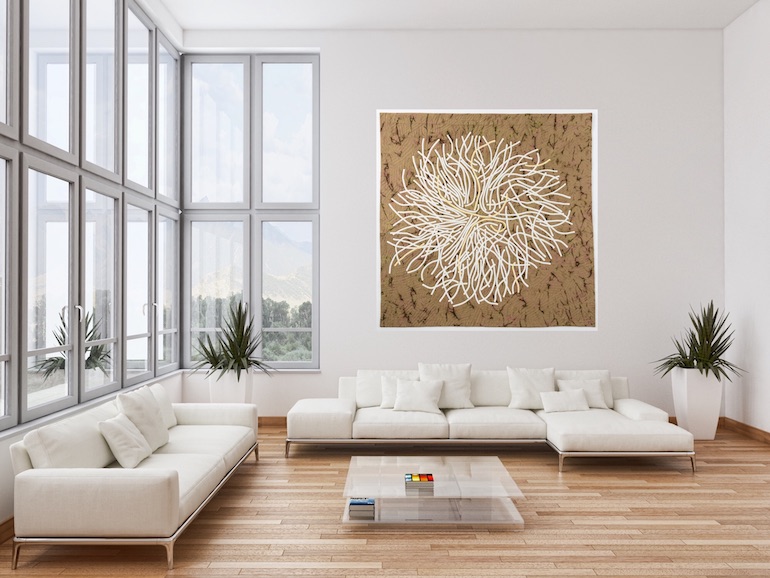 When asked for an artist statement, Cunningham sent the following humble message: "I make quilts using ancient and modern techniques, some by hand, some using a computerized quilting machine, all in a freely expressive style." 
His work can be seen in museums, art collections and galleries. He recently opened his own gallery, Joe Cunningham Quilts, at 1803 Market Street in San Francisco (his studio is in the back). On September 26, the gallery opens a show of his collaborations with the artist Luke Haynes. 
ADIA MILLETT
Adia Millett creates quilts in bold colors that are meant to be hung on walls. Her piece "Elements Converge" comprises three triangular quilts that are hung as a group—a textile triptych. 
On her website, she says her work draws on domestic and artistic traditions of quilt-making: "While my work pays homage to the past through the use of repurposed fabrics and historical iconography, its bright atheistic imagery is informed by the future. The art reminds us of the importance of renewal and rebuilding, not only through the artistic process, but also through the possibility of transformative change."
She adds, "My process is informed by taking things apart, removing, replacing, cutting, pasting, sewing, and building, in order to discover the space where transitions occur and where stories of impermanence unfold. Weaving threads of African-American experiences with broader ideas of identity, and collective history, my work investigates the fragile interconnectivity among all living things."
Millett, whose work also includes paintings, was part of the prestigious Whitney Museum Independent Study Program, and was a resident artist at the Studio Museum in Harlem. Her work has been exhibited internationally. Millett lives and works between Oakland and Los Angeles. Her work is currently on view at Traywick Contemporary in Berkeley, through November 6. 
MICHAEL ROHDE
Michael Rodhe, who lives and works in L.A. County, has been weaving since 1973. His work has been exhibited internationally and is in the permanent collections of several museums, including The Art Institute of Chicago. 
Typically his works are non-representational, though notable exceptions are his woven portraits of Martin Luther King and Frida Kahlo. He also draws inspiration from photos he takes while traveling; one series began with photographs of building facades in Oaxaca.
"I make handwoven tapestries, usually honoring the grid imposed by the loom," he said in an interview with the San Jose Museum of Quilts and Textiles. "Mostly I use wool yarns and natural dyes. Color is a major aspect of my practice, so I've always found it important to dye my own yarns. Like a painter, I use a set of base colors and mix them to achieve the effects I want."
Of working in fiber, Rohde said, in the same interview: "At art school, I realized that most artists want to do something that no one else has done or is doing; I appreciate that fiber is a smaller field. On a panel, I was asked if I've ever made political work; my response was that in a sense working as an artist in fiber is a political act."
PEGGY WIEDEMANN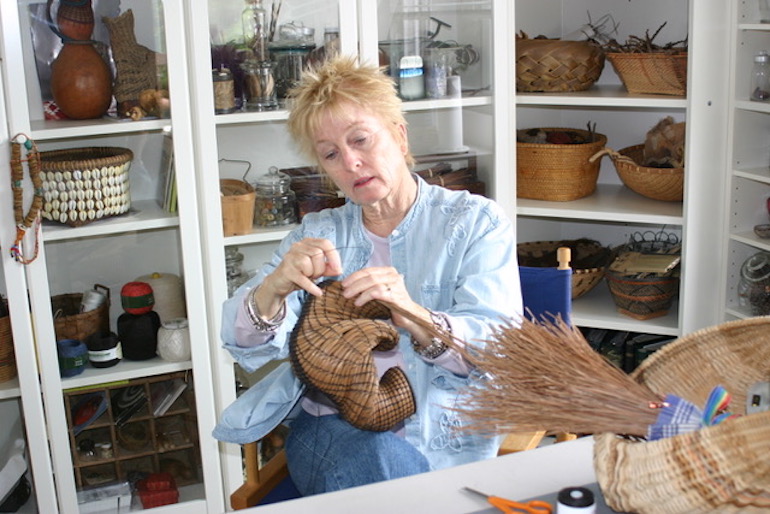 Peggy Wiedemann, who lives and works in Southern California, has worked in fiber and basketry for many years. On her website she writes that she strives to "use traditional materials in unorthodox ways, creating designs, shapes and styles that stretch the imagination and react with the senses."
Her soulful works—her favorite aspect of basketry is evocative coiling—have been exhibited around the country. They are inspired by her materials: natural fibers, and things she finds in nature, such as pine needles. "I sometimes combine these natural elements with found objects," she writes. 
She describes her work as "a little wild and unconventional. Movement is a recurring theme. I'm not dealing with any world-changing ideas in my art. But I am always pushing myself to experiment. For me, art is about breaking rules."
---
More from SPACES:
---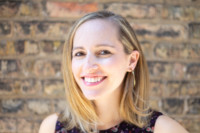 Liz Logan is the editor-in-chief of SPACES. Her writing about art, design and lifestyle, has appeared in numerous publications, including The New York Times, The Wall Street Journal, O, The Oprah Magazine and Martha Stewart Living.